Lactoferrin is receiving increased interest from researchers for its beneficial effects on the immune system in infants and younger children. Recent Japanese research showed children with an increased dietary lactoferrin intake had a 33% reduction in the prevalence of diarrhea, vomiting and fatigue. The study involved children aged 12 – 32 months old that were given growing up milk with added lactoferrin and then compared to a "control" group that did not receive the added lactoferrin.
This research builds on a significant database of scientific knowledge that supplement manufacturers can utilise to develop nutrition products containing lactoferrin. Consumer demand is increasing for immune products. The proportion of families that have both parents in the workforce is increasing, which also increases the time children spend in pre-school or daycare. This opens opportunities to help parents support the health of their children's immune system and minimise the impacts of acute gastrointestinal symptoms for kids and parents alike.
Further information on the study results below.
Effects of Lactoferrin-Fortified Formula on Acute Gastrointestinal Symptoms in Children Aged 12–32 Months: A Randomized, Double-Blind, Placebo-Controlled Trial
A randomised, double-blind, placebo controlled study by Motoki et al. in 2020 evaluated the efficacy of lactoferrin from cows milk (bLf) added to growing up milk in preschool aged children. The primary study outcome was the prevalence of respiratory and gastrointestinal symptoms. Japanese children aged 12-32months were enrolled in the study and randomised into two groups, 101 children completed study. The 53 children in the treatment group were provided 48mg of bLf a day, added to a growing up milk. While the 48 children in the control group received only growing up milk. The prevalence of symptoms was reported by parents during the 13 week trial.Those children in the treatment group demonstrated a 33% reduction in the prevalence of acute gastrointestinal symptoms, which include diarrhea, vomiting and fatigue whereas the acute respiratory symptoms were comparable between the groups.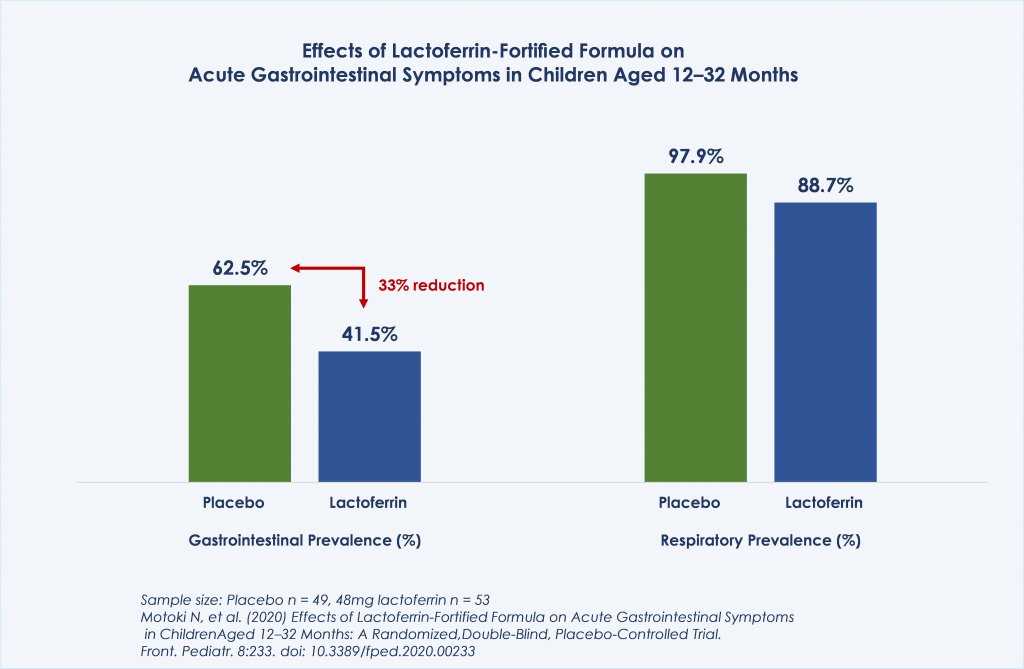 The study highlights the consumption of lactoferrin in growing up milk supports a decrease in the prevalence of acute gastrointestinal symptoms in children 12 – 32months.
Full study: Motoki N, et al. (2020) Effects of Lactoferrin-Fortified Formula on Acute Gastrointestinal Symptoms in ChildrenAged 12–32 Months: A Randomized,Double-Blind, Placebo-Controlled Trial. Front. Pediatr. 8:233. doi: 10.3389/fped.2020.00233